To say this past Winter was long is an understatement! Here in Connecticut we were clobbered with snow so deep the kids couldn't even play outside without the serious risk of being buried beneath a mountain of white! So, we were definitely in need of some boredom busters to pass the time. With the rainy month of April upon us I thought I'd share some of the things my kiddos really enjoy that have lots of "lasting power." After years of use my guys still love 'em! They're great to oull out on rainy days, snowy days or well, really
anytime
! So if you're on the prowl for a few good boredom busters, give these a try!
(By the way, I'm

not

receiving any compensation for recommending these items. I just want to share these little finds with you all!)
Ok, onto the goodies:

1.
Crayon Rubbings
byKlutz
This book of textured etching plates, crayons and line drawings is worth its weight in gold! I actually just cut the plates out of the book and the boys go to town using them to add funky textures to any picture they want to color. I love to whip these out for an easy way to jazz up coloring time! It's a bargain for about $10
2.
Pick and Draw
This is a deck of cards with various facial features on them. There are many ways to use these, but my guys like to separate them by category selecting one from each to create a silly face. This is a great for working on fine motor skills and increasing drawing confidence! Sometimes we even give our caricatures names and make up stories about them! Great fun for lots of different ages!
3.
Wikki Stix
These are seriously cool! If you've never heard of them, they're wax-covered bendable sticks that you can mold and shape into...well, pretty much anything! They don't make a mess and you can use them over and over. They're so much fun for all ages. We have a few different activity sets (e.g.
alphabet cards
,
tons of fun
and
basic shapes
.) They're a great way to jazz up teaching phonics, numbers, shapes as well as other skills. And even little guys can use them independently if you need to occupy them for awhile. Big thumbs up for Wikki Stix!
4.
Citi Blocs
If you;re looking for a high quality block set that you're kids can use as they get older, I'd highly recommend Citi Blocs. They are a bit on the expensive side, but they are very well made and you can make tons of complex structures with them. Here's a couple of neat things you can make with them:
5.
Mandala Maker
by Ravensberger
Another great way to work on fine motor skills and encourage creativity! There are several different sets to choose from based on various themes. The kit comes with pens, paper and a template with several different design options. So much fun!
6.
Dotza
Pen Set
These are special markers with a hole in the center of the tip creating a shape like a "Cheerio." By using these pens at different angles you can create unique effects, the result looking sort of like a mosaic. The set comes with design templates, so even younger kids can make a really great work of art!
7.
Origami
There are lots of different origami sets out there, and I don't have a recommendation for one in particular. Origami is tons of fun for all ages! (Younger kids will need a little help from you). There's just something fascinating about turning a piece of paper into a cool animal or object simply by folding! It's also a great exercise for kids to follow instructions and work on visual imitation.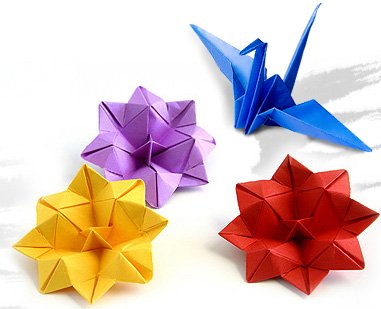 8.
Funprint Drawing Book
by Ed Pemberly
We actually borrowed this from our local library, and it is a ton of fun! The boys had a blast turning their thumbprints into little caterpillars, bugs, flowers and other things.
9.
B. Pop-Arty Beads
These little pop beads are a ton of fun! Combine these funky beads together to make jewelry, snakes, ropes and more! (And although these are marketed toward girls, boys love them just as much!)
10.
100 Things for Little Children to do on a Trip
Usborne
This deck of reusable draw and wipe cards are loaded with fun! My boys have a had countless hours of fun doing the little mazes, drawing pictures and solving puzzles with this deck of cards. (And no trip required to use these!)
So, there you have it-my list of 10 boredom busters! Hope this might be helpful! Because you know I'm all about helping to save a fellow mom's sanity! ;)