Outside my window...
Spring is in full swing! It's one of those ideal days of May with gorgeous breezes, chirping birds, bright sunshine. It's one of those days that make you feel like the world is full of imagination and possibilities...
I am thinking...
About my homeschool plan for the summer. I usually take a good chunk of the summer off--like the entire month of July at least. This year my goal is to try to keep up at least a little bit with the "3 Rs" throughout the summer since we missed so many days this past year due to moving and baby. But summer is when I
love
to take trips, do tons of hands-on fun stuff and just laze around the kiddie pool, so I'm hoping to try and strike some type of balance between work and play. Maybe early morning schoolwork, and play the rest of the day? Or school 3 times a week? I'm not sure what this will actually look like yet. I'm good at making things sound good in my head, but the implementation is always the challenge, LOL! Last summer was not the greatest, since I was going through first trimester yuckies coupled with the stress of trying to sell the house, so I want to really live it up this summer!
Planning on making lots of these...
...and picking plenty of these...






...taking time to stop to admire these...


...and always a boat load a' this!
I am thankful...
For Spring and creative juices flowing and my little guy settling down into somewhat of a predictable routine (the first 3 months with a newborn are kinda crazy! I can't say I'll miss 'em one bitty bit!). I'm also thankful for Pinterest and it's endless inspiration (or I guess I should say "Pinspiration," right?).
In the kitchen..
I'm FINALLY starting to get back my "cooking mojo!" It's been on vacation a looooong time. It's funny--I often get inspired to cook when the nice weather returns, but this is the exact WORST time to cook because it's so dang HOT! (And our new house does NOT have central air!) Oh well, gotta grab that motivation whenever it comes, right? I'll just have to cook and sweat. :) I plan on trying some new recipes soon, so I'll share the good ones, promise!
I am creating...
Along with the return of said cooking mojo comes the return of the Crafty Mama! I recently made this book-page wreath. It was fun and fairly simple, aside from the uber-painful glue gun burn I sustained while holding down the LAST page! That part was definitely un-fun. But I love it. I made it from a really old book, so the pages have that cool agey-patina, which I wanted. And best of all it, it even
smells
like a library! Bonus!!
I am going...
ummm...does the back yard count?! The kids have been sick this past week, so it's not been the most adventurous of weeks for us. But last week one of our homeschool groups celebrated it's final meeting of the year with a May Crowning. It was beautiful, and best of all, was this
cupcake rosary
the hospitality group put together! Amazing!
Crowning of Mary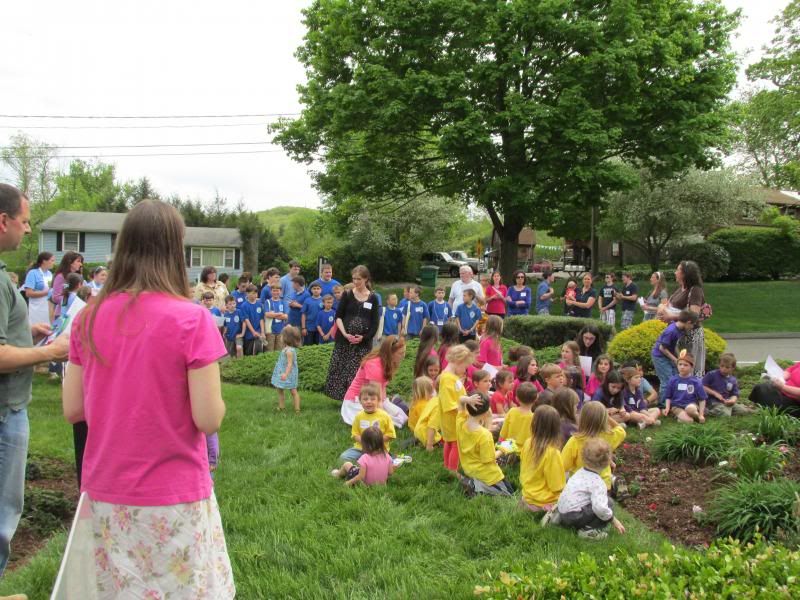 Our May Crowning--can you find Luke, Adam and Megan? (It's like a "Where's Waldo!" LOL!)
I am wondering...
What to make for dinner--the kids have had no appetite from being sick (think stomach bug but
"the
other end
" instead. Blech.). They're past the BRAT Diet stage now, but not exactly up for a big ol' slice of pizza or heaping bowl of chili! Some type of bland chicken it is...
again
!
I am reading...
I'm proud to report that I'm falling back into my old routine of reading a gazillion books at once! The book heap is crazy. Seriously. Along with several others, I'm finishing up
A Mother's Rule of Life
, making my way through
Educating the Whole-Hearted Child
, and starting
Carry On,Warrior
. I'm also about to crack open
Poisonwood Bible
. I tend to get in more of a fiction mood in the warm weather, I don't know why. It's sort of my version of beach reading I guess, except I always go for the meaty topics, since...well, that's just how I roll! You'll never see any Daniel Steel on this girl's night stand. (My apologies to any Daniel Steel fans out there. I won't judge, I promise!) :)
I am hoping...
To dive into some more crafts projects! I also need to paint Megan's bedroom. My girl decided she was done with her granny wallpaper in her room and took it upon herself to, um, rip off
ginormous pieces of it
. Yeah. So, I figured I'd better finish up the job she started! This is how we spent an entire day last week:
Yes, and I even pulled a "Fun Mom" and let them draw on the walls, since we were washing them after, anyway. (Warning: I wouldn't recommend the drawing! It created gross colorful drips collecting at the baseboards when it was time to wash the walls! TOTAL MESS!!!)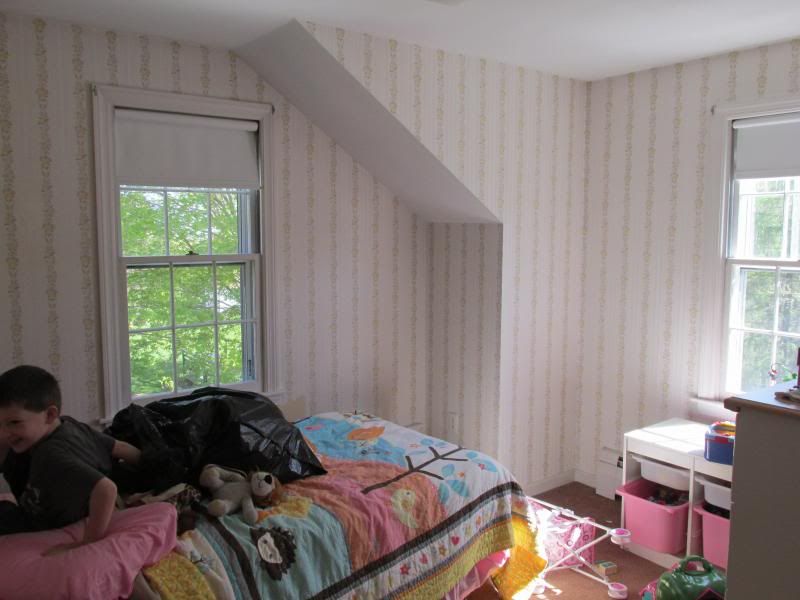 Here's a shot of said Granny Paper, when we first got started. It looks nicer in this picture than it did in real life, let me assure you!
I am looking forward to...
Thomas's baptism! I'm so excited, he's fitting into Luke's baptismal outfit--this will be the first time I've been able to re-use any of my children's little white outfits! Woohoo!
I am learning...
how much more I'm able to give to others, when I'm feeling filled up. After months of feeling totally depleted from the move and pregnancy, I'm finally getting my "groove" back, and have noticed how much more...
present
I'm able to be. I'm thankful for that life lesson. So, with that, I urge you all to take time to re-charge! It's
not
being selfish, and it actually makes you able to be
less
selfish in the long-run! When I was in high school my biology teacher had a lump of clay he kept in his cabinet. He told us if we ever needed to, we could "take a clay day." This meant, that on a rough day, instead of participating in class, we could just sit and play with clay. Cool, huh? So, in the wise words of Mr. Arnold, if you feel like you need to,
take a clay day!!
Just do it. :)
Around the house...
Little-by-little I'm hanging up pictures, un-packing various do-dads, making the house look more like a home than the generic living space it's been for the past several months. It's fun. I'm also doing a "room analysis" as per suggestion in Mother's Rule of Life. I'm trying to create a kid-accessible place for everything in each room, so the littles can grab things and pick up after themselves without needing a ton of help from me. This is a looooong-term project! I'm hoping to chip away at this a little over the summer.
We also wrapped up our Garden of the Good Shepherd festivities and packed away our Easter decorations. I had grand plans for Pentecost (think crafts, games and special foods) but the kids being sick put a ginormous kink in that plan. So, we kept it simple. I did however, throw together a game of "Pin the Flaming Gift on the Holy Spirit" (Yeah, I need to work on that title, I know! It sounds super creepy!). This was actually really fun. And those who know me well, know all about my obsession with "Pin the____" games, so I'm living up to my reputation! Almost every single party I've ever had for the kids has featured some version of "Pin the____."
Our Pentecost candle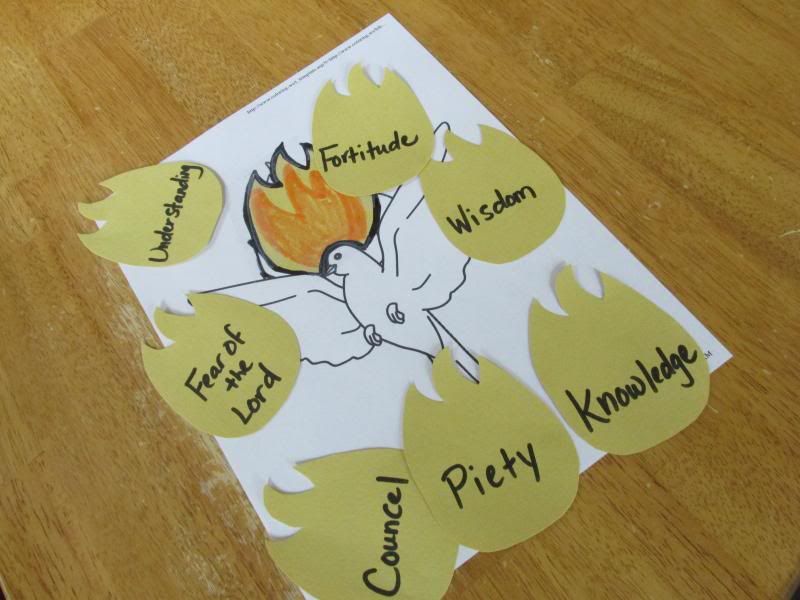 Our game of "Pin the Flaming Gift on the Holy Spirit" (BAD name!)
Fun for the whole family...minus the creepy title!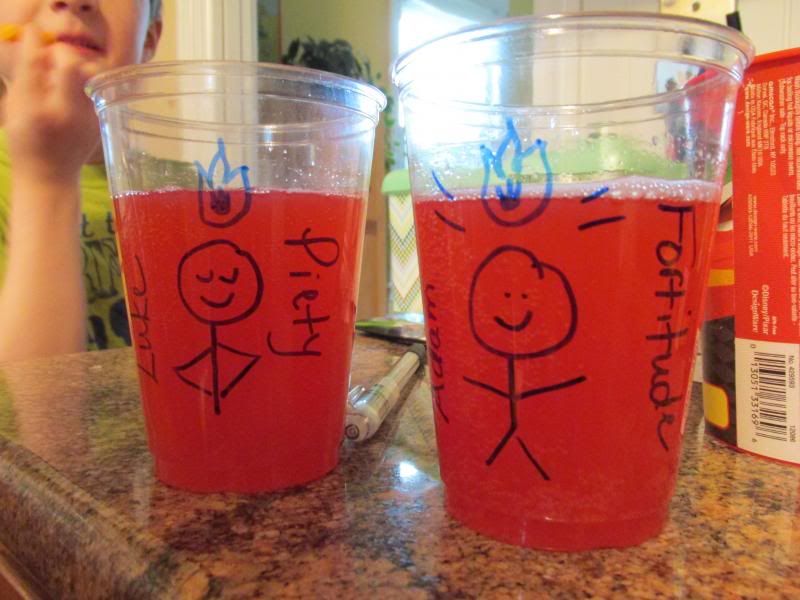 I drew some little pictures on the kids' juice cups to add to the day of lame-lack-of-prep-festivities, but they thought this was the greatest thing ever! I love how easy my kids are to please!
I am pondering...
...an article I read about a study on happiness which found that keeping our thoughts focused on the present makes us happier than thoughts that are past or present oriented. Fascinating. I was thinking that so many of our thoughts are of memories and future goals. Why would memories and dreams make us less happy, I wonder? It makes me think of that old Simon and Garfunkel song,
Bookends
: "time it was, and what a time it was, it was..." (I LOVE Simon and Garfunkel.) I suppose these thoughts make us yearn for what we don't have
right at this moment
, which makes us, consequently...less happy? Interesting to ponder.
A favorite quote for today...
"I am convinced that the shortest distance between two strangers is a shared story about our broken places."
I had jotted this down awhile back and shoved it into a notebook I recently unpacked, but I have no idea where this quote comes from! If anyone knows please let me know and I'll gladly give credit! I completely agree with this, having experienced it more than once in my life. In my opinion, it's one of the most amazing things about
real friendships.
One of my favorite things...
This past week the kids and I were sitting around in the backyard and Luke came running up to me exclaiming, "Mom, I was just SO close to the cutest little bird that I could almost reach out and touch it! It was chirping just like it was talking to me! It was one of the
most magical moments
of my life!" Oh, how I adore my sweet, sensitive nature-lovin' boy. Sometimes he says the most amazing things.
A few plans for the rest of the week:
I'm in "the-spring-cleaning-that-should've-happened-a-month-ago" and project mode! Oh yeah, and I suppose I should do some homeschooling, too. :)
A peek into my day...
Aaaaah, Spring how I love you!
shared with: